Are you looking for a fulfilling profession in the real estate industry but lacking a formal degree? Then, you're in the right place! In this article, you will uncover the essential tips to assist you in achieving success as a real estate agent without needing a formal degree. Contrary to popular belief, a degree is only sometimes a prerequisite for entering this dynamic industry.
In this article, you will learn how to become a real estate agent without a degree. We will navigate you through the necessary steps, alternative paths, and valuable resources that can help you kick-start your real estate journey. Whether you're a high school graduate or looking to make a career switch, this article is your definitive roadmap to becoming a real estate agent on your terms. So without further ado, let's get started!
Overview of Licensing Requirements
Do you have any idea how to become a real estate agent without a degree? Becoming a real estate agent does not necessitate a college degree, though it does entail fulfilling particular licensing requirements. The exact steps may vary slightly by state, so it's essential to research the specific details for your area before obtaining a license. In addition, real estate licenses are issued at the state level, and all states require completing a mandatory examination to get one. Therefore, exam preparation is critical since passing scores vary from state to state.
In addition to taking and passing the exams, most states require license applicants to provide documentation verifying their identity and residency status and proof of completion of any applicable pre-licensing courses or other training programs required by the Board or Commission that governs real estate licensure in their jurisdiction. Additionally, many states often run background checks on prospective agents before granting them a license.
Once you've met all the necessary qualifications, you can submit your application with any fees due and then await approval of your license. It's important to note that states typically require periodic renewal of rights, which usually involves completing additional coursework or certifications and paying associated fees. To ensure compliance with any ongoing requirements set forth by your state's regulatory body, familiarize yourself with what needs to be done to stay up-to-date on renewing your real estate license.
Steps to Obtaining a Real Estate License
The right way to get a real estate license involves several steps, including researching approved schools or programs, enrolling in pre-licensing classes, passing exams, submitting an application, and considering additional education or training opportunities. Here is the in-depth analysis of the procedure:
Research approved schools/programs: Start by researching reputable schools or course providers that offer real estate classes and exams. Look for programs that are certified by state regulators to meet licensing requirements. Check with your state's real estate commission or regulatory agency for a list of approved providers.
Enroll & attend pre-licensing classes: Once you've chosen a school or program, enroll in their pre-license courses. These courses cover essential topics such as property law, contracts, finance, ethics, and real estate practices. Make sure to complete the required class hours specified by your state.
Pass written & practical exams: After completing the pre-license courses, you'll need to pass both a written and practical exam to obtain your real estate license. Study diligently and familiarize yourself with the current legislation and rules pertaining to real estate transactions in your state. Some schools may offer mock exams or study materials to help you prepare.
Submit application & pay fees: Once you've successfully passed the exams, you'll need to submit your license application to the appropriate state regulatory agency. It usually involves completing an application form and paying the necessary fees. Follow the instructions provided by your state to ensure a smooth application process.
Additional education or training opportunities: After obtaining your real estate license, consider taking advantage of further education or training opportunities in your area. These may include advanced courses, workshops, seminars, or designations that can enhance your knowledge and skills as a real estate professional. Stay updated on industry trends and continue learning throughout your career.
Remember, the specific requirements and procedures for obtaining a real estate license can vary from state to state. Therefore, it's crucial to consult your state's real estate commission or regulatory agency for accurate and up-to-date information on the licensing process in your jurisdiction.
Education and Training Opportunities
Becoming a real estate agent typically doesn't require a college degree, but acquiring the necessary knowledge and skills through education and training is essential. Multiple options exist for acquiring the necessary knowledge and instruction in the real estate sector. Here are some usual steps on how to become a real estate agent without a degree: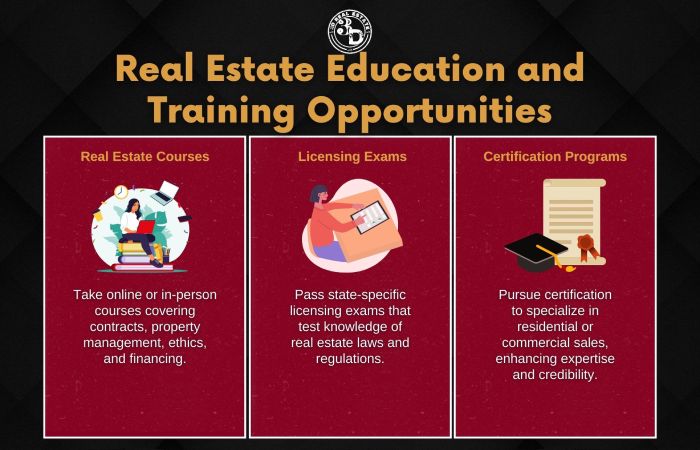 Online and in-person real estate courses are widely available. These courses encompass a broad range of subjects related to the industry, including contracts, property management, ethics, and mortgage financing.
All states have licensing exams that aspiring real estate agents must pass to obtain their licenses. It's crucial to study and prepare for these exams to ensure success. The material covered in the licensing exams often includes state-specific real estate laws and regulations.
Certification programs offer additional credentials and specialization options for real estate agents. These programs let you focus on specific areas of the industry, such as residential or commercial sales. Obtaining certifications can enhance your expertise and credibility in your chosen niche.
Continuing your professional development is essential once you've completed the vital education and training requirements and obtained your real estate license. This field constantly evolves, so staying current with continuing education offerings and industry updates is crucial. Ongoing learning will help you adapt to changes, broaden your knowledge base, and stay ahead of the competition.
Finding a Brokerage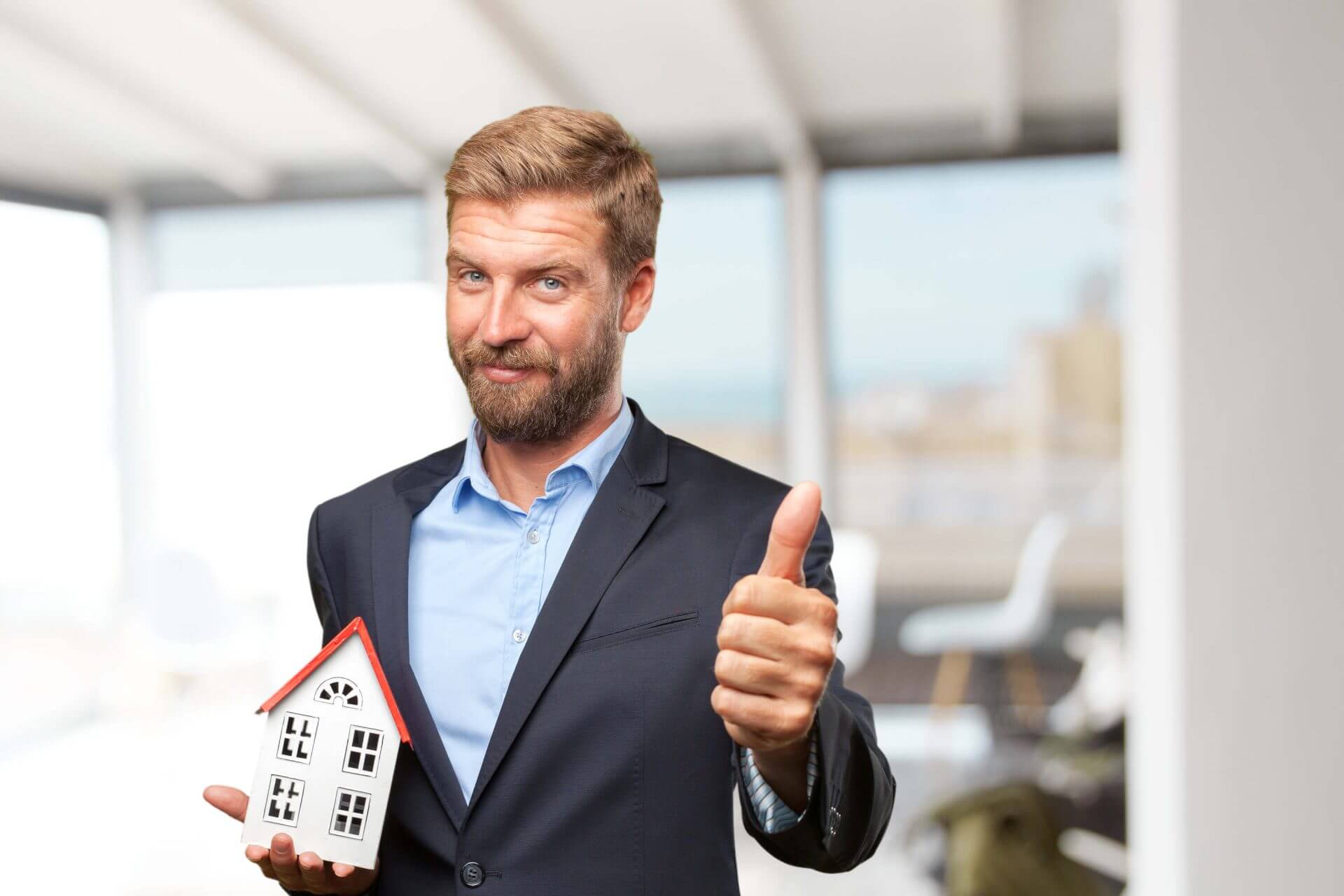 Now that you have met the educational and qualification prerequisites to become a real estate agent, it is time to find a brokerage. A real estate brokerage is an organization where agents can practice their profession. In addition, joining a brokerage allows you access to resources such as marketing tools, technology, and office space.
When looking for a real estate broker, research what services they provide and if they offer any additional training or mentorship programs. It's also important to look into their commission structure and other factors like how long they have been in business, customer service levels, professional reputation with buyers and sellers, etc. You want to ensure the brokerage will help you build your career rather than hinder it.
Once you've chosen the right brokerage, ensure all the necessary paperwork is filled out correctly. Hence, you comply with state laws regarding licensure and insurance requirements. This step should not be overlooked; if done incorrectly could lead to costly fines from regulators down the line. Now that a licensed broker/brokerage company has approved your real estate license, you are ready to move on to the next step: marketing yourself as an agent!
Marketing Yourself as an Agent
Positioning yourself as a real estate agent without a degree requires a proactive approach and leveraging various channels to promote your brand. Here's a breakdown of some tips: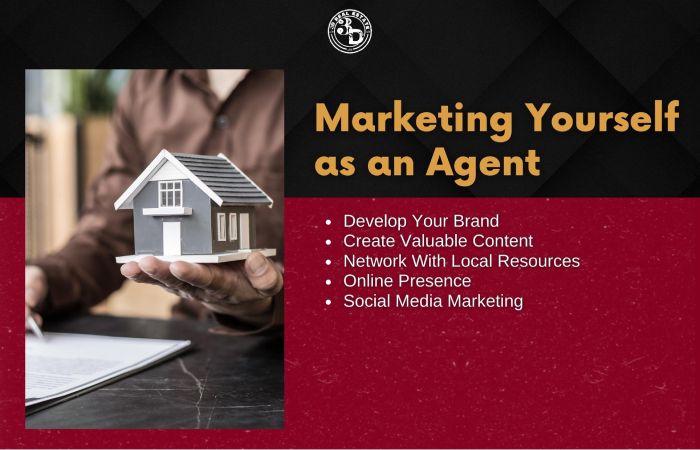 Develop your brand: Create a consistent visual identity representing your brand as an agent. It can include a logo, color scheme, and font selection. Use these elements across your marketing materials, including social media profiles, pamphlets, business cards, and websites.
Create valuable content: Establish yourself as an industry expert by creating and sharing informative content. Begin a blog on your website where you can write articles about real estate trends, buying/selling tips, and local market insights. Consider creating podcasts or videos to engage with your audience. Share this content through your website, social media platforms, and email newsletters.
Network with local resources: Build relationships with local banks, mortgage companies, title companies, and other real estate professionals. Attend industry events, join professional associations, and participate in workshops or seminars. You may gain access to leads and referrals by networking with these professionals.
Online presence: Establish a presence on popular real estate platforms like Zillow, Realtor.com, and other listing sites. Create professional profiles that showcase your expertise, past sales, and client testimonials. Ensure your profiles are optimized with relevant keywords to improve your visibility in search results.
Social media marketing: Leverage social media platforms such as Facebook, Instagram, LinkedIn, and Twitter to connect with potential clients. Share engaging content, including property listings, market updates, and tips for buyers and sellers. Foster audience involvement by responding to comments and messages promptly.
The Bottom Line
The real estate industry offers lucrative opportunities and doesn't require a degree, making it accessible to aspiring professionals. However, dedication and hard work are essential for success. Utilize available resources like online courses, local college classes, and mentorships from brokerages or associations. Plus, ongoing education ensures knowledge of best practices and local regulations. You can thrive in real estate by networking, leveraging education, and effective self-marketing. It may be challenging, but the rewards make it worthwhile.
At 3D Real Estate, we understand the immense potential and opportunities in the real estate industry. If you're ready to undertake a rewarding career path that doesn't require a degree, we encourage you to take the first step. Contact us today to explore the resources, mentorship programs, and educational opportunities we offer to aspiring real estate professionals.