The real estate industry offers many exciting opportunities, and becoming a licensed real estate agent is a popular real estate career choice for many individuals. Traditionally, aspiring agents would affiliate with established brokers to gain experience, guidance, and resource access. However, the evolving real estate market landscape has sparked the question: Can you be a real estate agent without a broker?
In this blog post, you'll discover the possibilities and implications of becoming a real estate agent without a broker. We will explore the advantages, drawbacks, and legal considerations surrounding this alternative path, providing valuable insights for those considering a real estate career or seeking more autonomy in their existing practice. So without further ado, let's get started!
What Is a Real Estate Agent?
A real estate agent is an expert mediator between individuals looking to buy or sell property. This person is responsible for finding, appraising, marketing, negotiating, and closing on a sale or purchase of the property. Estate agents must possess knowledge in many areas, such as local market conditions, legal issues related to buying and selling properties, financing options available to customers, and taxation considerations.
To embark on a real estate career, you must obtain licensing from your state's Department of Real Estate or a similar regulatory body. The requirements vary by state but generally include passing a written exam and completing educational courses specific to real estate law and practice. Once licensed, you will be certified by the state as having met their qualifications for becoming an estate agent.
A real estate agent's role is critical in helping buyers find homes they love and assisting sellers in maximizing their profits when selling their homes. With this responsibility comes excellent potential rewards – financial and personal satisfaction from helping people realize their dreams.
Obtaining the Necessary Licensing For Your Real Estate Career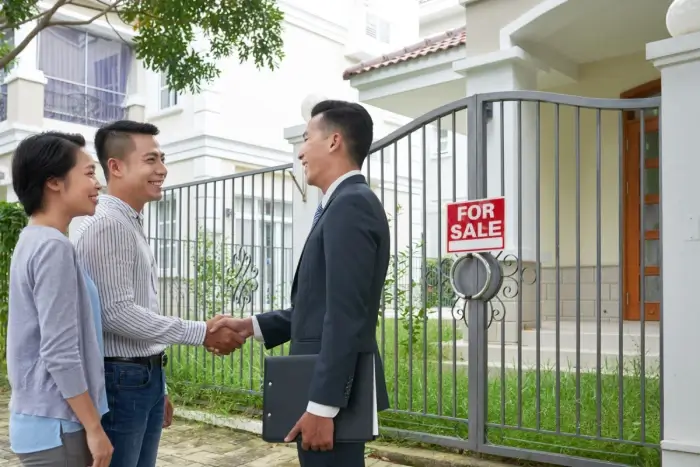 Obtaining a real estate license is the first step to becoming an agent. All agents must be licensed to practice in their respective states and local jurisdictions. Some applicants must also complete additional courses or examinations specific to their expertise.
The timeline for acquiring a real estate license can vary and typically takes several months, depending on your location and the speed at which you complete the mandatory training. Additionally, it's essential to familiarize yourself with your state's rules and regulations regarding licensure. Once you have completed all the necessary steps and obtained your license, you will officially become an agent in your chosen jurisdiction.
A real estate agent without a broker is necessary for individuals who want to pursue a real estate career independently. These agents are crucial in guiding aspiring agents to meet the criteria for obtaining their license and acquiring any essential certifications or qualifications. By availing themselves of this information, individuals aspiring to become agents will be adequately prepared to fulfill the requirements specific to their local area before commencing their real estate careers.
Requirements for Becoming an Agent
To work as an independent real estate agent, you must fulfill certain requirements and follow specific steps. Here are five key provisions:
Meet the minimum age requirement.
In most states, individuals aspiring to work as real estate agents must meet a minimum age requirement of 18 years. This age requirement ensures that individuals have reached the legal age to enter into contracts and engage in real estate transactions.
Obtain a real estate license.
To embark on a real estate career, you must obtain a real estate license from the state where you intend to practice. The specific procedures and requirements for obtaining consent vary from state to state. Generally, it involves completing the necessary education and passing a licensing exam.
Complete pre-licensing education
Before taking the licensing exam, you must fulfill the pre-licensing education requirements set by your state. It typically involves finishing a certain number of classroom hours or online courses approved by the state's real estate regulatory body. The courses cover various topics related to real estate, including contracts, finance, property management, legal issues, appraisal, and marketing.
Pass the licensing exam.
After completing the required pre-licensing education, you must pass the real estate licensing exam. The exam assesses your knowledge of real estate principles, laws, and practices. Therefore, it is essential to thoroughly study the materials provided during your education and use additional study resources to prepare for the exam.
Affiliate with a brokerage or become a broker
As a newly licensed real estate agent, you must usually affiliate with a licensed real estate brokerage. By working alongside a seasoned broker, you can acquire hands-on experience and industry insights, enhancing your practical know-how and knowledge in the real estate field. Alternatively, you can become a licensed real estate broker, which requires additional education and experience.
It's important to note that these requirements may vary from state to state, so it's crucial to research and follow the specific regulations and procedures in your jurisdiction. Additionally, ongoing professional development and staying updated with changes in real estate laws and practices are essential for success as an independent agent.
Real Estate Career: Working as an Independent Agent
Fortunately, you can be a real estate agent without a broker. An independent agent is an individual who holds their license and operates independently of any traditional brokerage firm.
Working as an independent agent has its advantages:
No desk fees or other overhead costs are associated with working in a larger organization.
The ability to choose clients and transactions more freely than when working for a brokerage firm.
However, some drawbacks come along with the independent status:
It is essential to fulfill all state licensing requirements, which may entail taking additional classes or continuing education courses at your own expense and on your own time.
Potentially more challenging to get started without the support of a larger organization or mentor.
Feeling overwhelmed by the day-to-day operations of running a business alone.
Responsible for creating marketing materials, advertising, developing client relationships, obtaining contracts, and managing paperwork solo.
It's crucial for aspiring independent real estate agents to carefully consider these factors and determine whether the benefits outweigh the challenges. While independent real estate agents enjoy flexibility, self-motivation and discipline are necessary, and some prefer traditional brokerage firms' support. Ultimately, it's a personal decision that should align with your goals, resources, preferred working style, and the average profit potential of a real estate agent.
Benefits of Working With a Broker
A broker is an experienced real estate professional with the necessary license to help agents succeed. By partnering up with a broker, you will access resources and tools that could benefit your business. Here are several advantages of partnering with a real estate broker: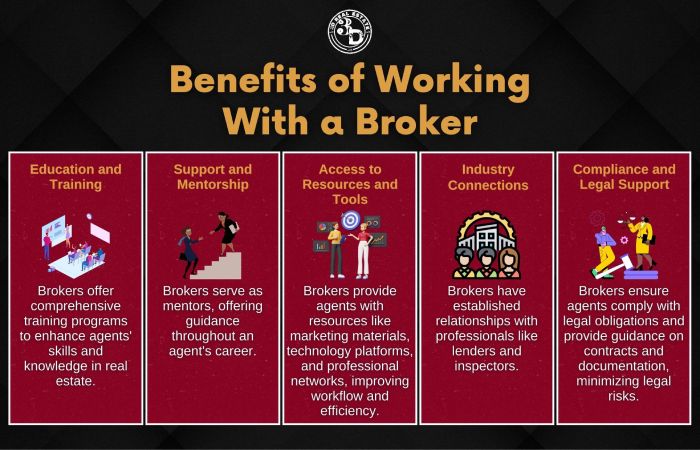 Brokers often provide comprehensive training programs to help new agents develop their skills and knowledge in their real estate careers. They can offer guidance on best practices, market trends, and legal requirements. This ongoing education can significantly enhance an agent's professionalism and competence.
Brokers can serve as mentors and offer guidance throughout an agent's real estate career. They have the experience to answer questions, provide advice, and help agents navigate challenges. This support system can be invaluable, especially for newer agents building their reputation and clientele.
Access to Resources and Tools
Brokers typically have access to diverse resources and tools that can benefit agents. It can include marketing materials, technology platforms, databases, and professional networks. Leveraging these resources can streamline an agent's workflow and improve their efficiency.
Brokers often have well-established relationships with other professionals in the real estate career, such as mortgage lenders, home inspectors, and contractors. These connections can be beneficial when coordinating transactions and providing additional services to clients. Access to a broker's network can save time and effort in finding reliable, trusted partners.
Compliance and Legal Support
Real estate transactions encompass a range of legal and regulatory obligations. Brokers are responsible for ensuring that their agents comply with these rules. In addition, they can guide legal contracts, disclosures, and documentation, reducing the risk of legal issues and protecting both the agent and their clients.
It's important to mention that the specific benefits and support brokers provide may vary. Hence, it's crucial to carefully evaluate and choose a broker that aligns with an agent's work goals and needs. Nevertheless, working with a broker can be a valuable partnership that fosters professional growth and success in a real estate career.
Finding Success as an Independent Real Estate Agent
While it is possible to be a successful real estate agent without a broker, it's important to note that agents must work under a licensed broker's supervision in most jurisdictions. The broker provides guidance, support, and legal oversight to ensure transactions are conducted ethically and by the law.
However, alternative ways exist to operate independently within the real estate career. One option is to become a licensed real estate broker yourself. It allows you to work independently and even have other agents work under your supervision. The right way to get a real estate broker license typically involves completing the required coursework, gaining practical experience, and passing a broker licensing exam.
Another option is to work as a referral agent or a transaction coordinator. Referral agents connect buyers and sellers with licensed brokers or agents in exchange for a referral fee. Transaction coordinators assist in managing the administrative tasks involved in real estate transactions, working closely with brokers or agents.
While these alternatives provide some level of independence, it's important to remember that the real estate career is highly regulated, and legal and ethical considerations are involved in every transaction. So again, working with a broker or other licensed professionals can help you navigate these complexities successfully.
Bottom Line Of Your Real Estate Career
It is indeed possible to succeed in a real estate career without the assistance of a broker. By obtaining the necessary licensing, independent agents can operate autonomously and enjoy similar advantages as those working with a broker. While there may be certain limitations, such as participating in complex transactions or securing financing, diligent preparation and hard work can lead to a prosperous career as a real estate agent without depending on a broker.

At 3D Real Estate, we believe in empowering individuals to thrive in their real estate careers. If you aspire to succeed as an independent real estate agent, it's time to take control of your real estate career. Contact us today, and let us guide you toward a profitable future in the real estate market.