Are you an investor looking for the best place to buy land in Colorado? Then look no further! With our years of experience in the real estate industry, we can provide an overview of some of the best places in the state. From mountain views and desert landscapes to rolling hills and plains, there's something here for everyone.
Colorado is known for its diverse landscape and numerous recreational activities. Whether it's skiing or snowboarding during winter months or taking advantage of the many hiking trails throughout summer, there's plenty to do outdoors year-round. Continue reading to learn where you can find your perfect piece of property.
Overview Of the Colorado Land Market
The land market is an attractive option for those looking to buy land in Colorado. While prices vary depending on the location, there are plenty of opportunities in this mountain state. This overview will provide insight into the current market and offer some tips for buyers interested in purchasing land in Colorado.
Colorado's real estate industry has seen significant growth over the past decade with many people relocating due to its beauty and outdoor activities. The population increase has increased demand and pushed up prices, especially near cities like Denver and Boulder. Land prices tend to be higher as one moves closer to major metropolitan areas or ski resorts.

Despite these increases, rural parts of Colorado still boast relatively affordable options when compared to other states. Land buying tips such as researching utility access can help make sure you don't pay too much for your purchase while also ensuring it meets your needs. With its majestic scenery and vibrant culture, There are many best places to buy land in Colorado. Now let's explore the types of available land in more detail.
Types Of Available Land
When considering land for purchase in Colorado, there are a variety of types available. Here are the different types of land you need to know: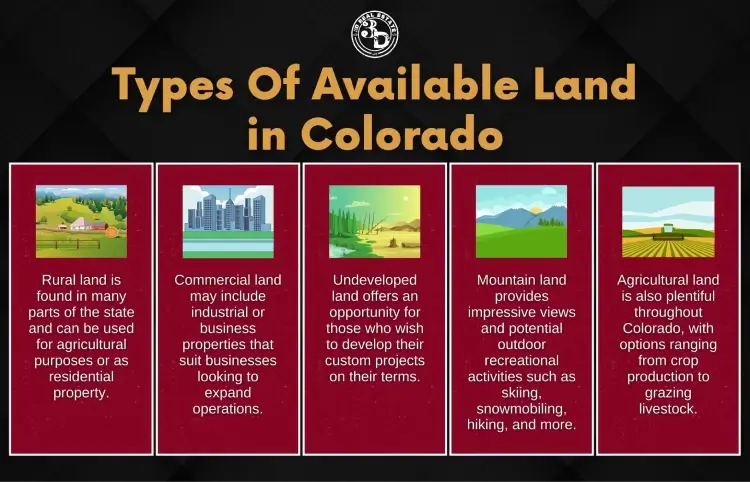 Rural land is found in many parts of the state and can be used for agricultural purposes or as residential property.
Commercial land may include industrial or business properties that would suit businesses looking to expand operations.
Undeveloped land offers an opportunity for those who wish to develop their own custom projects on their terms.
Mountain land provides amazing views and potential outdoor recreational activities such as skiing, snowmobiling, hiking, and more.
Agricultural land is also plentiful throughout Colorado with options ranging from crop production to grazing livestock.
All offer great opportunities depending upon what type of use you're looking for when buying land in this beautiful state. While these kinds of lands have different characteristics, it's vital to consider different factors before making a big purchasing decision.
Best Place To Buy Land in Colorado: Factors To Consider
When you buy land in Colorado, there are various factors that must be considered. These include budgeting, legalities, amenities, and topography. It's important to understand how these elements will affect the purchase process before moving forward with any transaction.
Budgeting is a critical aspect of purchasing land. Knowing what type of property fits within one's financial means can help eliminate costly surprises down the road. A buyer should establish a clear understanding of their budget prior to entering into an agreement with a seller or real estate agent.
Research additional expenses such as taxes and insurance premiums associated with owning land in Colorado. Legalities also play a role when investing in Colorado real estate. This includes familiarizing oneself with zoning laws for specific areas and researching deed restrictions that may limit development plans for certain parcels of land.
Being aware of state regulations regarding water access rights could prove beneficial during negotiations with prospective buyers or sellers. Assessing potential amenities and topography goes hand-in-hand when looking at available properties throughout the state of Colorado.
From recreational activities like fishing and hiking nearby to geological features such as mountains or valleys – all these details come together to form the overall landscape of a region where someone may choose to invest in real estate property ownership.
Considering each element carefully can help you decide what suits your individual needs and desires before making this major commitment towards becoming a resident of Colorado's vast countryside offerings. With all these considerations set forth, it's time to turn our attention toward identifying some popular locations to buy land in Colorado.
Popular Locations To Buy Land In Colorado
Colorado is a great place to purchase land with its scenic mountain views and outdoor activities, making it a desirable destination for those interested in real estate. There are several types of properties available throughout the state including Colorado mountain land, rural land, and more traditional urban living options. When deciding on which area is best for you, there are some considerations to keep in mind: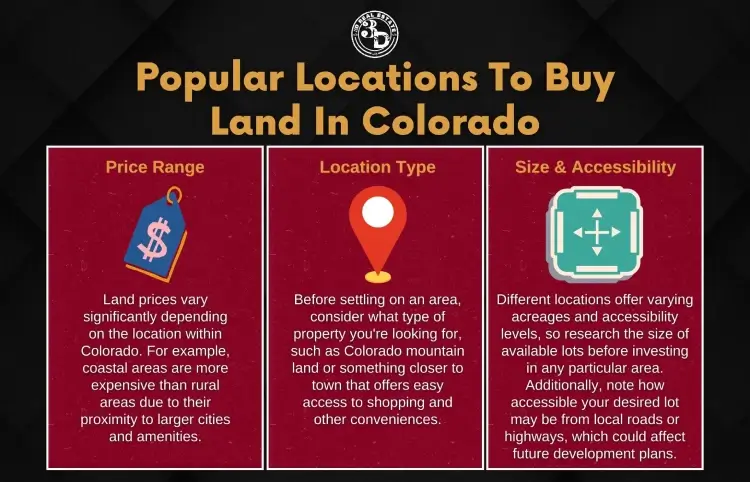 Price Range: Land prices vary significantly depending on the location within Colorado. For example, coastal areas tend to be more expensive than rural areas due to their proximity to larger cities and amenities.
Location Type: Before settling on an area, consider what type of property you're looking for such as Colorado mountain land or something closer to town that offers easy access to shopping and other conveniences.
Size & Accessibility: Different locations offer varying acreages and accessibility levels so research the size of lots that are available before investing into any particular area. Additionally, take note of how accessible your desired lot may be from local roads or highways as this could affect future development plans.
When weighing these factors against each other, there are many attractive lands for sale in Colorado no matter where you decide to look; from high-end ski resorts like Aspen and Vail all the way out to remote ranches located far away from civilization. The key is finding the perfect match between price point, convenience level, size requirements, and overall appeal for your ideal piece of Colorado land real estate!
Tips For the Best Place To Buy Land In Colorado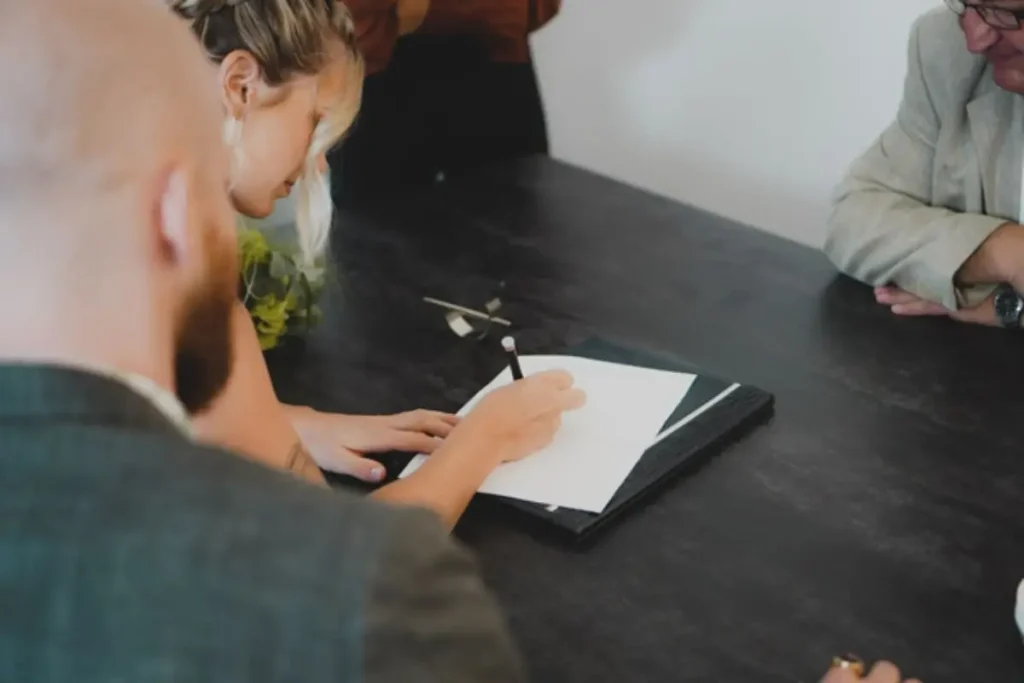 When it comes to purchasing property in Colorado, there are various steps that can help you find the best place for your needs. With its majestic mountain views and wide open spaces, Colorado is an ideal location for those looking to buy land or invest in real estate. Here are some sound advice on what to consider when searching for land in the state:
| | | |
| --- | --- | --- |
| Tips | Considerations | Benefits |
| Research | Cost of land | Affordable prices |
| Location | Ideal locations | Availability, wide variety |
| Regulations | Zoning & Codes | Understand Rules |
| | Taxes | Minimize costs |
Finding land in Colorado is easier than ever with online resources such as county assessors' websites and GIS mapping tools making it easy to view available properties. It's important to understand the zoning regulations and codes specific to each area so you know exactly what type of development is allowed on any piece of land. Taxes differ from region to region due to fluctuating market conditions, which should be considered before making a purchase decision.
By researching the cost of land, availability, and zoning regulations, it's easy to determine where the best places are to buy land in Colorado depending on your needs. The benefits include affordable prices and finding ideal locations with a variety of options available. Understanding the rules helps buyers minimize costs while still taking advantage of all that this beautiful state has to offer.
Conclusion
Colorado offers an abundance of breathtaking landscapes and diverse terrain, making it a desirable location for those seeking to invest in land. With its favorable tax rates and regulations, buying land in Colorado can be a lucrative long-term investment.
However, it's important to note that navigating the real estate market can be a complex process, especially for those unfamiliar with the area. That's why working with a reputable and experienced real estate company like 3D Real Estate is crucial.
At 3D Real Estate, our team of experts has a deep understanding of the Colorado land market and can help guide you through every step of the process. From finding the perfect parcel of land to navigating zoning laws and regulations, we are committed to making your land purchase as smooth and successful as possible.
If you're looking forward to buying land in Colorado, don't hesitate to reach out to 3D Real Estate. Our team will help you find your dream property and secure your investment in one of the most beautiful and desirable states in the country. Contact us today to get started!